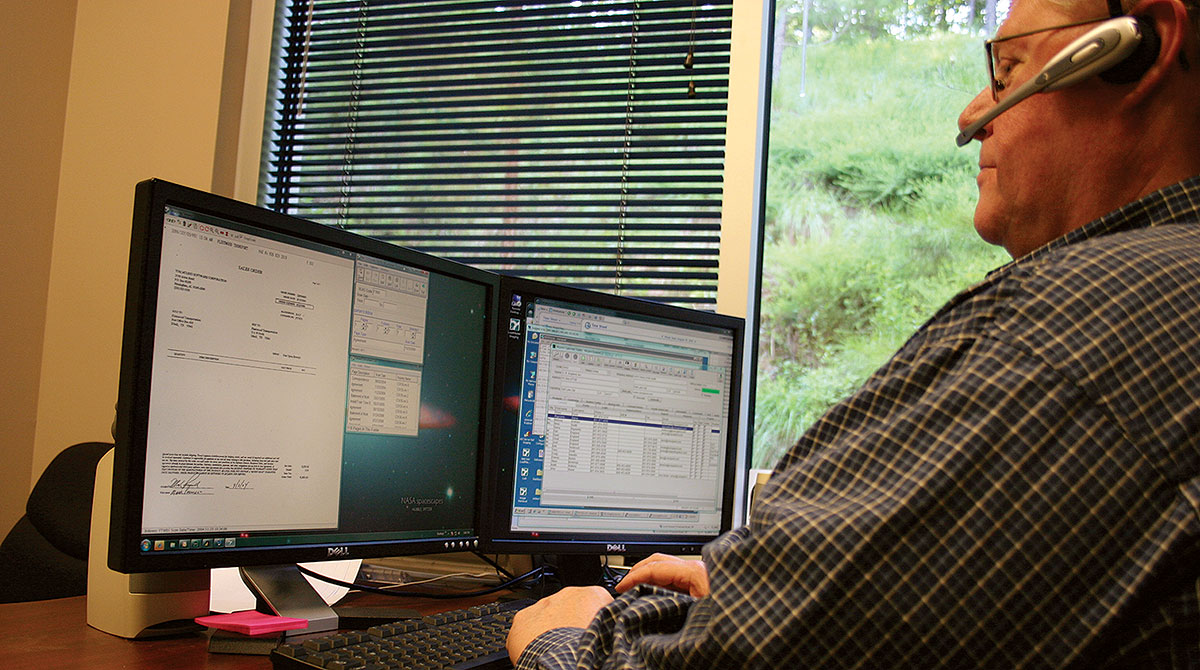 When PVG Trucking in Mint Hill, N.C., started doing business in 2004 with two trucks, the company used Excel spreadsheets to manage the business and continued in that mode for about eight years. Today, the carrier's fleet has grown to 28 trucks and the spreadsheets are gone, replaced by a transportation management system.
"It slowly became very cumbersome to keep track of all the different loads and accounting things and dispatches," said CEO Daniel Gusev, whose father, Peter, founded the company. "Consolidating everything into one software that did everything from invoicing to paying settlements and dispatching definitely saved time and manpower."
For small trucking companies that are getting bigger, recognizing the point when it becomes necessary to adopt management software isn't so difficult, fleet managers and technology vendors said. Instead, the challenges have more to do with evaluating systems, choosing one and implementing it.
Gusev said PVG implemented the system "slowly," for dispatching first, then for handling invoices. He added that it was important to him that the system worked well with other services such as the factoring company that PVG uses.
"For smaller, emerging fleets I think the two biggest challenges are cost and fear of change," said Kelly Frederick, director of sales and marketing for Transport Pro, which supplied its system to PVG Trucking. "If the fleet is not doing consistent volume and they don't know what business looks like from one day to the next, cost can quickly become a barrier to entry."
A company should have well-defined growth strategies and figure out the return on investment for a system to help determine whether implementing it makes sense, she said.
Shippers tend to let carriers know when there's an inefficiency attributable to technology, or lack of it, said Ben Wiesen, president of Carrier Logistics Inc., a supplier of management software for less-than-truckload operations.
"It's just obvious when you're not meeting your customers' needs [because of] a technological barrier," Wiesen said.
JA Frate, a carrier with a brokerage division, JA Nationwide, switched to CLI's system because its previous TMS had two databases — one for the carrier, one for the brokerage — even though they shared customers.
"It was very inefficient to run two databases and duplicate all the customer information," said Kathleen Anderson, office project manager. "Plus, it wasn't good for our customers because they had separate account numbers [for each side]."
As trucking companies expand, it becomes increasingly difficult to manage their operations on basic tools.
"They can't do it all on sticky notes and Excel spreadsheets. They can't do it using Big Chief notepads," said Rick Halbrooks, McLeod Software's vice president of sales and marketing.
That transition often happens when a fleet reaches 30 to 50 trucks, said Jay Delaney, senior director of product management for Trimble Transportation, but he added, "We're seeing fleets of smaller size starting to make that jump."
Delaney said that small fleets that grow quickly typically are used to conducting business over the phone, working the load boards, but when they start getting contracts and have to deal with backhauls and associated business demands, they begin to consider implementing management software.
Some small carriers take a fresh look at their back-office software after growing through mergers and acquisitions.
Landshark Transport & Logistics, which operates six tractors, this year acquired Capital City Trucking Holdings and its fleet of 85 tractors, and also purchased the assets of a freight broker. Landshark and Capital City, which operates as a separate business unit, share 120 trailers.
Earlier this year, the company began an extensive search for a TMS system that would meet the demands of its evolving business model.
Landshark CEO Trey Waterloo said the company followed a structured, step-by-step approach that began in May.
The company held weekly conference calls with representatives from different departments to find the best option. Although it was difficult to pull people away from their day-to-day responsibilities, the company felt it was important to first map out its current workflows before initiating conversations about software implementation, Waterloo said.
Through that process, Landshark was able to identify goals and metrics to measure prospective TMS vendors. The company evaluated six systems before deciding to implement Software-as-a-Service from MercuryGate.
Landshark expects to have fully implemented the TMS across all aspects of its business by early 2020, Waterloo said.
As carriers explore potential TMS implementations, they should look for benefits in efficiency resulting in cost reductions, said Todd Bucher, vice president of product management for MercuryGate.
Savings can be reinvested in the business — more trucks or facilities — or they can be passed along to customers in the form of lower, more competitive rates, Bucher said.
For a first-timer assessing TMS choices, some guidance can be useful, fleet managers and system vendors said.
The biggest challenge associated with adopting a TMS is the capital investment, some vendors said. The cost can be defrayed by opting for a subscription-based service, according to some.
Some vendors work with prospective customers to create a baseline model of a carrier's operations and show, for example, potential routing and optimization improvements, along with the projected ROI for implementing those improvements.
Keith Whalen, vice president of product management for JDA Software, said that process can "help formulate a business case for the investment."
Mobile connectivity to a TMS is part of making that business case for many fleet operators, Whalen said.
"One of the key benefits there is that it helps reduce the latency of data and information coming back into the TMS," Whalen said, which helps a company manage billing more efficiently.
"It's easy to get very confused by the product offerings," CLI's Wiesen said.

Understanding how a system works can be a challenge "until you actually get in there and look at the screen and follow a transaction through its life cycle," Wiesen said.

But he noted, "It's often impossible to do a test drive because of the sophistication and the setup requirements of a system."
That's where asking pointed questions becomes crucial, Wiesen said. Questions about IT infrastructure and "what does the software do" should be separated and the answers evaluated separately, Wiesen recommended. A carrier might benefit from hiring a consultant to assist with software analysis, he suggested.
Vendors recommended that carriers prioritize the business activities they aim to manage with software, such as dispatching and increased asset utilization, for example.
"There are a ton of capabilities" to consider when assessing a system, said Brian Hodgson, senior vice president of industry strategy for Descartes.
The goal is to ensure that "the higher-value areas are going to get improved and automated," he said.
Hodgson added that most TMS systems "are fairly configurable"—meaning they can be adjusted without straying far from the core software. An example of configurability is the assigning of loads to a particular driver or truck based on commodity or destination.
"Those are standard configurables in many TMS [systems]," Hodgson said. "Customization" on the other hand, "can take you down a path … that's expensive to implement from a software provider's standpoint," he said.
Implementation costs are shaped by a carrier's willingness to adapt to industry best practices, which have been defined by TMS providers that have implemented systems "hundreds and hundreds of times," Trimble's Delaney said.
Loading clean, accurate data is critical.
"If you don't make the upfront investment in putting in quality data, scrubbing your data, what you'll end up with is a very elongated implementation as you struggle to find those errors and deal with them on an exception basis over a period of time," Delaney said.
As a carrier becomes accustomed to the ways a TMS calculates rates and automates billing and other tasks, operations personnel begin to think differently about how they do their work, Delaney said.
"You can be more proactive," he said. "When a driver is running three hours late, you can see that in the system and you can make an adjustment to save that load. That's a change in people's thinking … changing behavior to maximize business potential."
See full article here. © ttnews.com